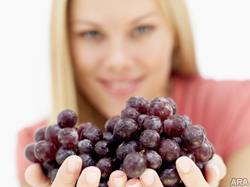 A glass of wine at happy hour or during a romantic dinner has certain mood-lifting benefits - that's long been known. But in recent years, more and more studies have shown that when wine grapes are crushed, more than meal-pairing magic happens.

Antioxidants in red wine do all kinds of helpful things for the body - like protecting your heart and boosting "good" cholesterol levels. But it turns out that crushed grapes not only offer healthy benefits inside, but skin beautifying benefits outside.

"Wine has high antioxidant levels due to the polyphenols included," says Carolyn Wente, CEO of California's Wente Vineyards, the country's oldest, continuously operated family-owned winery. "A wine country secret is that those antioxidants act as protectors against skin deterioration, defending it against damage."

While the French were exploring the idea of "vinotherapy" a while ago, it's now making headlines across the world - and showing up in shops and spas closer to home. Profiles in media outlets like The Today Show and luxury publications like Departures magazine and Spafinder.com are touting vinotherapy treatments like crushed-grape seed scrubs, soaks in cabernet wine baths and honey-wine wraps as the next great anti-aging spa solutions.

After a skin-abusing winter of dry air and cold winds, your skin could benefit from a sip of wine as much as you could. If you want to get in on the trend, there are plenty of ways to do so. And as word about vinotherapy spreads, cosmetic and skin care companies are now including crushed grapes, grape seeds and even grapevine stems in their offerings. Products like Tone Vino Moisture Body Wash with Crushed Grape and Shea Butter, make the vinotherapy trend more accessible. It offers the antioxidant power of crushed grapes, which leverages collagen-depleting free radicals - one of the major causes of signs of aging in your skin - right at home in your shower.

Incorporating wine into your beauty routine can now go beyond having a glass of wine with your bubble bath. With healthy anti-aging, skin-smoothing and moisturizing properties, it's no surprise that grape-based skin care is becoming the next big thing in the beauty world.
This comes to us from: 
http://www.kpvi.com/feed.php?id=17053&storyid=8056040101